Manufactured in France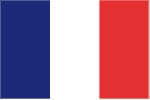 The PERGE Silvatherm Compact pellet boilers are totally manufactured in our factory in Portes-Les-Valence, France, where our research department is located as well. We develop there the products of tomorrow, performant and respectful of environment, economic and easy to install and to use.
Respectful of environment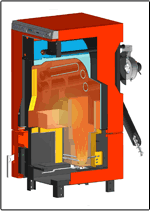 The refractory ceramic combustion chamber with 3 level air admission allows a complete and clean combustion fully satisfying the EN 303-5 classe 5 requirements for emissions.

The outside temperature automatic controller modulates the boiler heat output from 0 to 100% of its power.
Economic and easy to install
With a limited resort to electronic PERGE Silvatherm Compact wood pellet burning boilers may deliver up to 3 different heating temperatures directly from the boiler, without any additional hydraulic accessories (i.e. 1 under floor heating loop + 1 radiators loop + 1 DHW independant tank).
Its no minimum draught 80 mm diameter flue makes PERGE Silvatherm Compact very suitable when replacing an existing boiler.
Several solutions of pellet storage
You don't have a lot of space available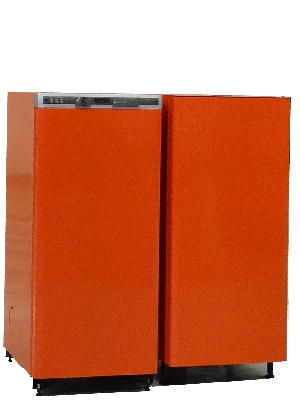 Mini-Silo : 250 kg wood pellet mini-silo. Integrated to the right or left of the boiler for an esthetic, compact solution (1,25 m width). Filling with bags.
 You are looking for an annual storage. You may have it close to the boiler ...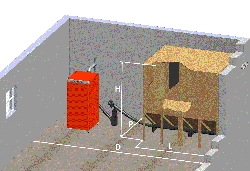 Transfert screw with silo to build SilBat
- Volume from 3,1 to 9,4 m3
- Minimum space required from 3,45 to 5,45 m (according to volume)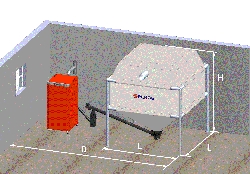 Transfer screw with textile silo SilTex
- Volume from 4,6 to 10,7 m3
- Minimum space required from 3,70 to 4,70 m (according to volume)





 ... or remotely




Vacuum system with silo to build SilBat
- Volume from 3,1 to 9,4 m3
- Maximum vacuum distance : 20 m
- Maximum vacuum elevation : 5 m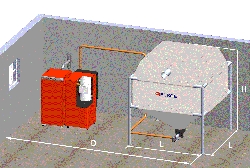 Vacuum system with textile silo SilTex
- Volume from 4,6 to 10,7 m2
- Maximum vacuum distance : 20 m
- Maximum vacuum elevation : 5 m