Table of Contents
Class 7 control (RC7)
RC7
is a
class VII control system
, which acts simultaneously on the temperature of the heating circuit:
- by modulating it according to the external climatic conditions ;
- by
adapting and correcting
it according to the room requirements.
The temperature sensors are easy to install and transmit information either by wire or by radio. The device is
controlled by your smartphone
using the
MyPerge application
, available on Google Play (Android) or Apple Store (iOS). The connection is made locally via Bluetooth or internet or remotely via internet.
Data exchanges are encrypted
for greater security. You can control
up to 3 heating circuits
or 2 heating circuits + 1 domestic hot water circuit.
You have 4 operating modes:
- Winter (heating + DHW)
- Summer (DHW only)
- Absence (heating only at a programmed frost-free temperature)
- Standby (no heating or DHW)
Bio-fuel F30 Compatible

PERGE has always invested in innovative technologies, particularly in clean combustion techniques.
This pragmatic approach is based on a process of permanent progress, even if it is minor, to improve the daily life of all. This is why PERGE Optitherm Connect+ low temperature oil boilers are compatible with Bio-fuel F30.
Energy efficiency
Optitherm Connect+ with control: seasonal energy efficiency class A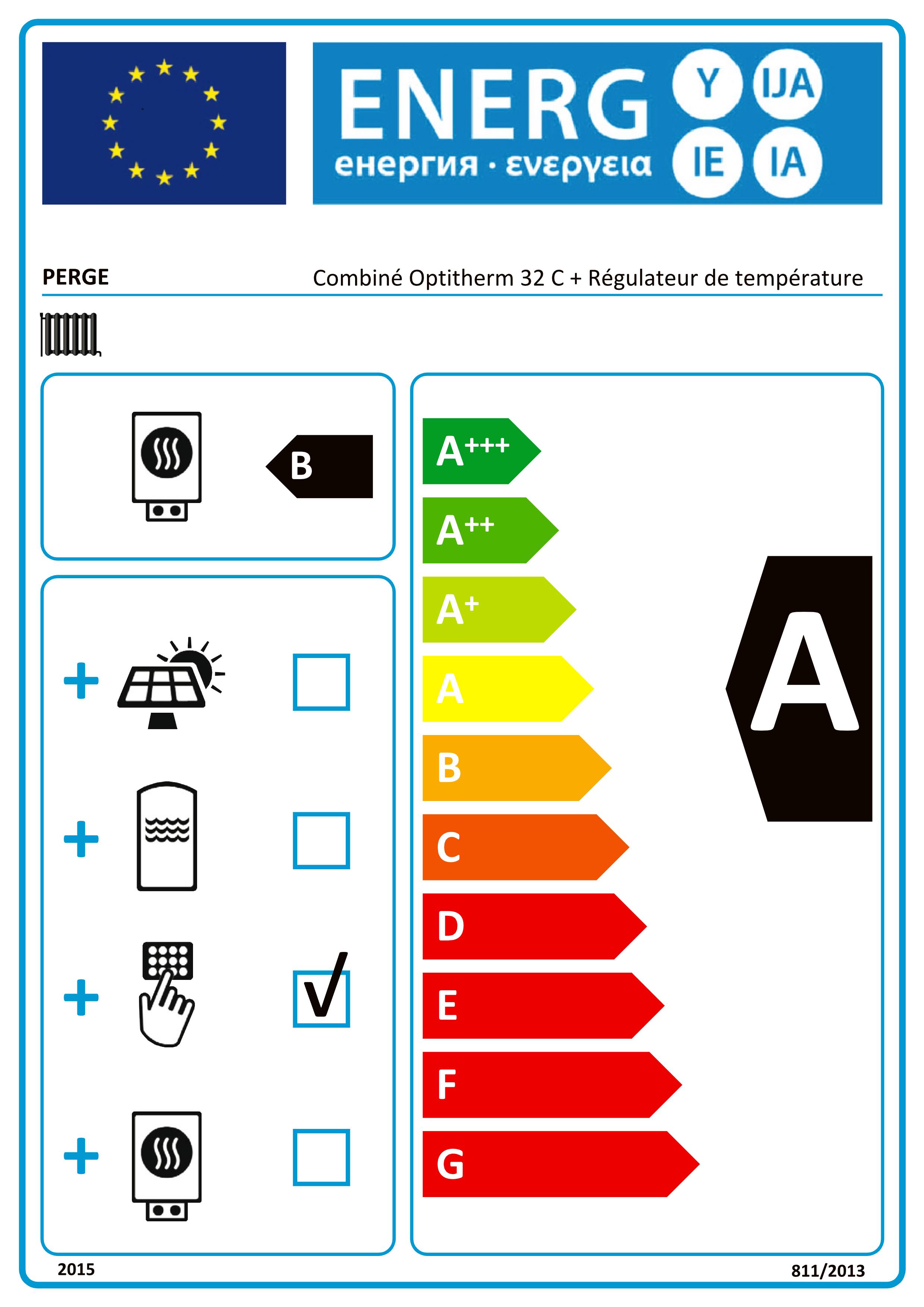 ErP label Class AA With its climate control with room correction (class 7), the Optitherm Connect+ 32kW boiler achieves a seasonal energy efficiency of class A, at the same level as a very good condensing boiler.Thanks to their low NOx emissions, Optitherm boilers are certified Eco-Conception 2018.
Economical and easy to install

Thanks to their original hydraulic design, PERGE Optitherm oil boilers can be installed without a mixing valve, whatever the configuration of the installation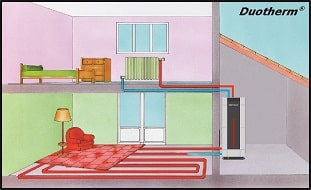 PERGE Optitherm Connect+ with Duotherm: PERGE Optitherm Connect+ oil-fired boilers can easily supply two heating circuits with different temperatures (e.g. underfloor heating + radiator circuit) directly from the boiler and without additional hydraulic accessories.
This simplifies the hydraulic installation and reduces installation times.


Perge: Low temperature oil boiler technology
Robust and simple

The dew point is avoided thanks to the Stoptherm device, without the installation of a mixing valve. This means that the boiler is operated at the required temperature without additional hydraulic accessories. Thanks to the factory-fitted class 7 control, you will achieve top performance in reducing your consumption.
A 90 or 150 litre 316L stainless steel anti-legionnaires' disease tank is fitted to the DHW models.


Exchanger body warranty: 10 years. The warranty on the heat exchanger body is extended from 3 to 10 years if you take out an annual maintenance contract with a professional, from the moment the boiler is commissioned and without interruption for 10 years.
Models and accessories
Equipment present on all models:
- Heating body allowing, without mixing valve, an operation without temperature limitation of the returns without risk of dew point.
- Two heating circuits with identical temperature, ideal for coupling with another boiler or two heating circuits with different temperatures, ideal for underfloor heating and radiators (-D).
- Control panel
- RC7: Class 7 control
- Low NOx oil burner, jacket and reinforced insulation
- Reinforced insulation jacket
Domestic hot water:
C: Heating only
B : Heating and domestic hot water production by 90 litre (B90) or 150 litre (B150) stainless steel tank.
Factory fitted equipment depending on the model:
V: Airtight flue for horizontal, vertical or separate flue connection.
D: Duotherm device for direct supply of 2 heating circuits at different temperatures, heating circulator circuit n°1 fitted and wired.
Bio-fuel F30 :
Chimney :

| | | | | |
| --- | --- | --- | --- | --- |
| Designation | kW | DHW | RC7 | Etas |
| Optitherm 24 C-F30DR Connect | 24 | / | ✔ | 86,3 |
| Optitherm 32 C-F30DR Connect | 32 | / | ✔ | 86,9 |
| Optitherm 24 B90-F30DR Connect | 24 | 90 litres stainless steel | ✔ | 86,2 |
| Optitherm 24 B150-F30DR Connect | 24 | 150 litres stainless steel | ✔ | 86,2 |
| Optitherm 32 B150-F30DR Connect | 32 | 150 litres stainless steel | ✔ | 86,9 |
Suction cup :
| | | | | |
| --- | --- | --- | --- | --- |
| Designation | kW | DHW | RC7 | Etas |
| Optitherm 24 C-F30VDR Connect | 24 | / | ✔ | 86,3 |
| Optitherm 32 C-F30VDR Connect | 32 | / | ✔ | 86,9 |
| Optitherm 24 B90-F30VDR Connect | 24 | 90 litres stainless steel | ✔ | 86,2 |
| Optitherm 24 B150-F30VDR Connect | 24 | 150 litres stainless steel | ✔ | 86,2 |
| Optitherm 32 B150-F30VDR Connect | 32 | 150 litres stainless steel | ✔ | 86,9 |
Standard Fuel Oil :
Chimney
| | | | | |
| --- | --- | --- | --- | --- |
| Designation | kW | DHW | RC7 | Etas |
| Optitherm 24 C-FDR Connect | 24 | / | ✔ | 86,3 |
| Optitherm 32 C-FDR Connect | 32 | / | ✔ | 86,9 |
| Optitherm 24 B90-FDR Connect | 24 | 90 litres stainless steel | ✔ | 86,2 |
| Optitherm 24 B150-FDR Connect | 24 | 150 litres stainless steel | ✔ | 86,2 |
| Optitherm 32 B150-FDR Connect | 32 | 150 litres stainless steel | ✔ | 86,9 |
Suction cup :
| | | | | |
| --- | --- | --- | --- | --- |
| Designation | kW | DHW | RC7 | Etas |
| Optitherm 24 C-FVDR Connect | 24 | / | ✔ | 86,3 |
| Optitherm 32 C-FVDR Connect | 32 | / | ✔ | 86,9 |
| Optitherm 24 B90-FVDR Connect | 24 | 90 litres stainless steel | ✔ | 86,2 |
| Optitherm 24 B150-FVDR Connect | 24 | 150 litres stainless steel | ✔ | 86,2 |
| Optitherm 32 B150-FVDR Connect | 32 | 150 litres stainless steel | ✔ | 86,9 |