Table of Contents
Bio-fuel F30 Compatible

PERGE has always invested in innovative technologies, especially in clean combustion techniques.
This pragmatic approach is based on a process of permanent progress, even if it is only minor, to improve the daily life of everyone. This is why PERGE Optitherm low temperature oil boilers are compatible with Bio-fuel F30.
Suitable for all needs
Optitherm 32 with controller : class A seasonnal space heating efficiency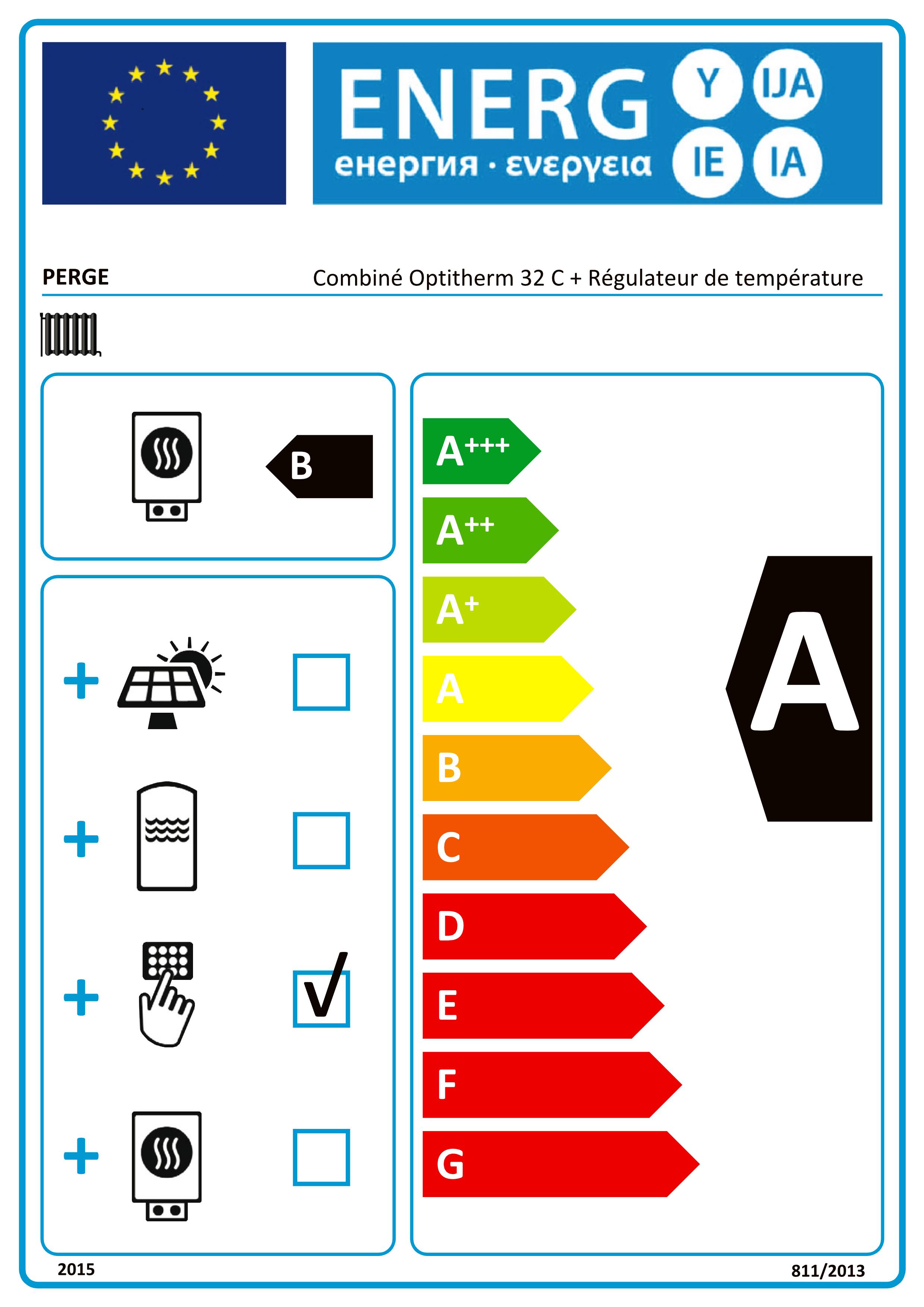 With its climate control with room correction, the Optitherm 32 R boiler achieves a seasonal energy efficiency of class A, on a par with a very good condensing boiler.
Thanks to their low NOx emissions, Optitherm boilers are already certified Eco-Conception 2018.
Economical and easy to install

Thanks to their original hydraulic design, PERGE Optitherm oil boilers can be installed without a mixing valve, whatever the configuration of the installation
Twinning of energies ? Under floor heating and radiators ?
Optitherm : the simple and easy answer.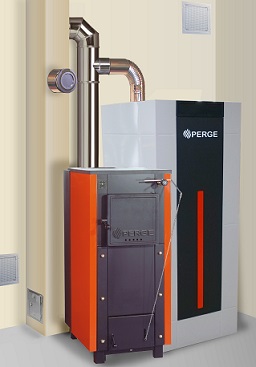 PERGE Optitherm: With ease and without the use of electronics, PERGE Optitherm oil-fired boilers can supply two heating circuits directly from the boiler and without additional hydraulic accessories.
It is an ideal solution for coupling with :
- a wood-fired boiler,
- a heat pump,
- solar collectors


Adjacent picture : Twinning of a PERGE optitherm oil boiler and a PERGE MC wood firing boiler

PERGE Optitherm with Duotherm: The PERGE Optitherm I series oil-fired boilers can easily supply two heating circuits with different temperatures (ex. underfloor heating + radiator circuit) directly from the boiler and without additional hydraulic accessories.
This simplifies the hydraulic installation and reduces installation times.
Perge: Low temperature oil boiler technology
Simple and reliable

The dew point is avoided thanks to the Stoptherm device, without the installation of a mixing valve. This means that the boiler operates at the temperature required without additional hydraulic accessories. In combination with the RTE3 outdoor temperature control, you will achieve top performance in reducing your consumption.
A 90 or 150 litre 316L stainless steel anti-legionella storage tank is available for the DHW models.


Boiler body warranty : 10 years. Exchanger body warranty: 10 years. The warranty on the heat exchanger body is extended from 3 to 10 years if you take out an annual maintenance contract with a professional, from the moment the boiler is commissioned and without interruption for 10 years.
- Have a yearly maintenance of the boiler by a professionnal from the first year and all along the warranty period.
Models and accessories

Equipment present on all models:
- Heating body allowing, without mixing valve, an operation without temperature limitation of the returns without risk of dew point.
- Two heating circuits with identical temperature, ideal for twinning with another boiler or two heating circuits with different temperatures, ideal for underfloor heating and radiators (-D).
- Control panel
- Oil burner
- Reinforced insulation jacket
Domestic hot water:
C: Heating only
B: Heating and domestic hot water production by 90 litre (B90) or 150 litre (B150) stainless steel tank.
Factory fitted equipment depending on the model:
D: Duotherm device for direct supply of 2 heating circuits at different temperatures, heating circulator circuit n°1 fitted and wired.
Bio-fuel F30 :
Chimney :
| | | | | | |
| --- | --- | --- | --- | --- | --- |
| Designation | kW | DHW | C1 fitted | RTE3 | Etas |
| Optitherm 24 C-F30 | 24 | / | ° | ° | 86,3 |
| Optitherm 24 C-F30D | 24 | / | ✔ | ° | 86,3 |
| Optitherm 32 C-F30 | 32 | / | ° | ° | 86,9 |
| Optitherm 32 C-F30D | 32 | / | ✔ | ° | 86,9 |
| Optitherm 24 B90-F30 | 24 | 90 litres stainless steel | ° | ° | 86,2 |
| Optitherm 24 B90-F30D | 24 | 90 litres stainless steel | ✔ | ° | 86,2 |
| Optitherm 24 B150-F | 24 | 150 litres stainless steel | ° | ° | 86,2 |
| Optitherm 24 B150-FD | 24 | 150 litres stainless steel | ✔ | ° | 86,2 |
| Optitherm 32 B150-F | 32 | 150 litres stainless steel | ° | ° | 86,9 |
| Optitherm 32 B150-FD | 32 | 150 litresstainless steel | ✔ | ° | 86,9 |
Flue :
| | | | | | |
| --- | --- | --- | --- | --- | --- |
| Designation | kW | DHW | C1 fitted | RTE3 | Etas |
| Optitherm 24 C-F30V | 24 | / | ° | ° | 86,3 |
| Optitherm 24 C-F30VD | 24 | / | ✔ | ° | 86,3 |
| Optitherm 32 C-F30V | 32 | / | ° | ° | 86,9 |
| Optitherm 32 C-F30VD | 32 | / | ✔ | ° | 86,9 |
| Optitherm 24 B90-F30V | 24 | 90 litres stainless steel | ° | ° | 86,2 |
| Optitherm 24 B90-F30VD | 24 | 90 litres stainless steel | ✔ | ° | 86,2 |
| Optitherm 24 B150-F30V | 24 | 150 litres stainless steel | ° | ° | 86,2 |
| Optitherm 24 B150-F30VD | 24 | 150 litres stainless steel | ✔ | ° | 86,2 |
| Optitherm 32 B150-F30V | 32 | 150 litres stainless steel | ° | ° | 86,9 |
| Optitherm 32 B150-F30VD | 32 | 150 litres stainless steel | ✔ | ° | 86,9 |
Standard fuel oil :
Chimney :
| | | | | | |
| --- | --- | --- | --- | --- | --- |
| Designation | kW | DHW | C1 fitted | RTE3 | Etas |
| Optitherm 24 C-F | 24 | / | ° | ° | 86,3 |
| Optitherm 24 C-FD | 24 | / | ✔ | ° | 86,3 |
| Optitherm 32 C-F | 32 | / | ° | ° | 86,9 |
| Optitherm 32 C-FD | 32 | / | ✔ | ° | 86,9 |
| Optitherm 24 B90-F | 24 | 90 litres stainless steel | ° | ° | 86,2 |
| Optitherm 24 B90-FD | 24 | 90 litres stainless steel | ✔ | ° | 86,2 |
| Optitherm 24 B150-F | 24 | 150 litres stainless steel | ° | ° | 86,2 |
| Optitherm 24 B150-FD | 24 | 150 litres stainless steel | ✔ | ° | 86,2 |
| Optitherm 32 B150 | 32 | 150 litres stainless steel | ° | ° | 86,9 |
| Optitherm 32 B150-D | 32 | 150 litres stainless steel | ✔ | ° | 86,9 |
Flue
| | | | | | |
| --- | --- | --- | --- | --- | --- |
| Designation | kW | DHW | C1 fitted | RTE3 | Etas |
| Optitherm 24 C-FV | 24 | / | ° | ° | 86,3 |
| Optitherm 24 C-FVD | 24 | / | ✔ | ° | 86,3 |
| Optitherm 32 C-FV | 32 | / | ° | ° | 86,9 |
| Optitherm 32 C-FVD | 32 | / | ✔ | ° | 86,9 |
| Optitherm 24 B90-FV | 24 | 90 litres stainless steel | ° | ° | 86,2 |
| Optitherm 24 B90-FVD | 24 | 90 litres stainless steel | ✔ | ° | 86,2 |
| Optitherm 24 B150-FV | 24 | 150 litres stainless steel | ° | ° | 86,2 |
| Optitherm 24 B150-FVD | 24 | 150 litres stainless steel | ✔ | ° | 86,2 |
| Optitherm 32 B150-FV | 32 | 150 litres stainless steel | ° | ° | 86,9 |
| Optitherm 32 B150-FVD | 32 | 150 litres stainless steel | ✔ | ° | 86,9 |